The district of Santa Susanna de Peralta is located at the south-western end of Peratallada and borders on Sant Climent de Peralta, taking as reference the current route of the C-255 road from Girona to Palamós.
The settlement of the district is made up of various farmhouses, some of them converted into second homes. Traditionally, the population has lived through field farming.
In the land of Santa Susanna there are the remains of a bakery that is considered pre-Roman -Iberian- by the few pieces of pottery that, very crushed and eroded, were found on the outskirts. Currently, these remains, which are located a short distance from Can Serra, near a quarry in disuse, are virtually destroyed.
In the fields and forests near the castle, fragments of Roman type and Iberian-Roman ceramics were found. The scattering and low abundance of these superficial, sporadic findings, do not allow us to locate, not even roughly, the place or places where the old settlement was established.
The church of Santa Susanna de Peralta is located about 200 metres north of the castle, in a hollow beside the right bank of the Peralta stream. It is a small Romanesque temple, of extraordinary beauty, that has a single nave with a semicircular apse that was the subject of remarkable reforms in the 17th and 18th centuries. It is in a good state of conservation thanks to the significant restoration that took place in 1976 and 1977. The apse is decorated with Lombard slats or lashes, and has a double-bottom window and rounded arches.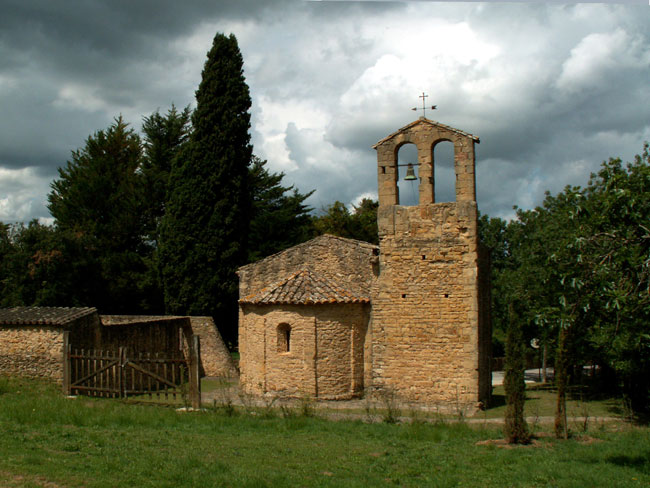 At the north side of the temple, at the far end of the nave, there is a square-bell tower that was unfinished or partly demolished. At the moment only the bottom part remains up to the height of the cover of the nave. On the east wall of this tower a bell tower was built with two rounded arches on rectangular pillars, also Romanesque. The interior of the bell tower is connected to the nave by means of a mid-point arch, from the baroque period.
How to get there