Accessibility
Accessible itinerary in the historic centre of Peratallada
The route that we propose connects the eastern entrance of the town with Plaça del Castell where in addition to the emblematic building of the castle-palace, there is the municipal place where you will find the Bar del Poble and the Tourist Office. It is a short route of about 250 meters that begins in the parking area behind Riera street and takes us to Plaça del Castell. Along this route, you will discover the complex of civil architecture, the Plaça de les Voltes and the Plaça del Castell from which you can observe the main façade of the majestic castle-palace. The entire itinerary passes through the outdoor area of the town since there is currently no tourist equipment or resource that can be visited on the inside.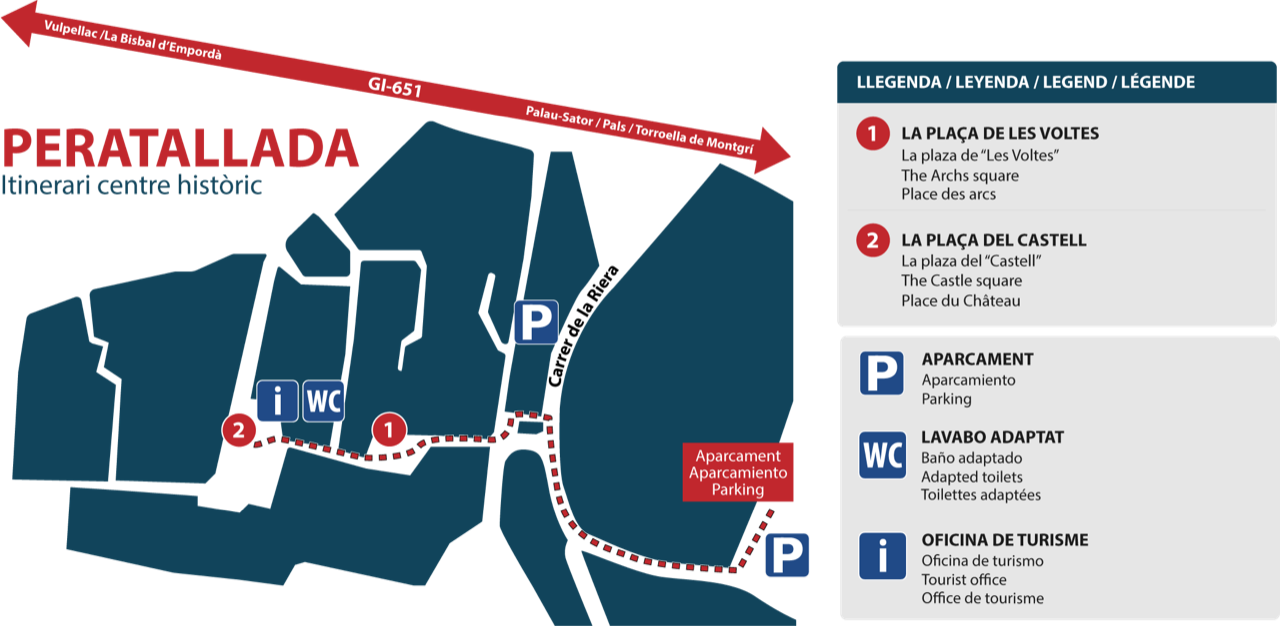 1. La plaça de les Voltes (the archs square): It is a passing site into the town and a shelter for the population against inclement weather. It was the social epicentre of the town for many centuries. It is an unsophisticated architecture, but of great value since it is a structure from the Middle Ages in which its rehabilitation has been the right and the necessary. The square has a rectangular shape and was formerly porticoed on its north bands, east and possibly also on its southern side. The arches of the north band are the only ones that are preserved despite being half hidden by the constructions that were raised after the arches. This type of arcaded square is very common in medieval towns of Empordà region. The laps are in very good condition and several construction phases can be recognized. These represent the consolidation of a typical house style in the area: the bridge house.
2. La plaça del Castell (the castle square): The square, with a very neat appearance, houses the main entrance to the castle of Peratallada. The current building is the result of a long construction process of many centuries. The first eference is from 1065, but the remains found would demonstrate the existence of a much older fortific tion, probably of Roman or Visigoth origin. The castle presents constructions of diferent periods and styles and two well diferentiated parts can be distinguished: the fortified nucleus and the palace. From Plaça del Castell what we can best see is the main exterior facade of the building. This square, in addition to the emblematic castle building, houses the municipal place where the Bar del Poble and the Tourist Office are located. 
More information: